Pupstanding Dog Training Academy
Dog training on your schedule and in the comfort of your own home!
Our Dog Training Programs are Perfect for:
Our Dog Training Programs are Perfect for:
Learning how to socialize your new puppy


Addressing common puppyhood issues, such as potty accidents and nipping


Preparing to adopt a new dog and getting started on the right paw


Training basic obedience cues


Helping your dog overcome separation anxiety or leash aggression


Fixing problem behaviors, such as destructive chewing, digging, barking, or jumping


Dogs who get nervous in group classes or when unknown people enter the home


 ... and more!
At Pupstanding, we have the perfect dog training program for every situation.
We'll teach you how to train your dog, giving you the knowledge and skills to keep your dog happy, healthy, and safe. Virtual dog training makes it easy for you to start training right away, from anywhere in the world.
No need to wait for puppy vaccines to attend group classes. No waitlist to get into full classes. Plus, there's no travel time and it's easy to get the whole family involved!
We're here to help!
Have Questions?
Meet Certified Dog Trainer and Behavior Consultant Cathy Madson MA, FDM, CBCC-KA, CPDT-KA, FFCP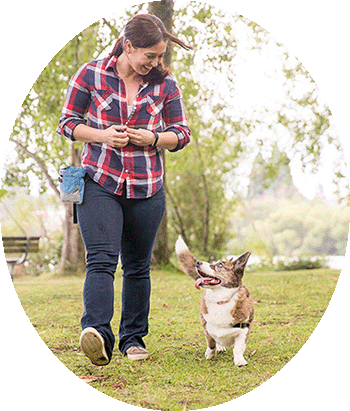 Cathy offers expert guidance for dog owners through virtual courses, one-on-one virtual coaching, and in-person dog training and behavior consultations in the Seattle, Washington area. She teaches group dog training classes at Seattle Humane in Bellevue, Washington.
With over 15 years of experience working with dogs in shelters, dog daycares, grooming salons, group classes, and private dog training, she has had the opportunity to work with hundreds of dogs and on a wide variety of behavioral challenges. She believes that preventive and proactive training is key to helping dogs live a happy, well-adjusted life with their family.
She has appeared on a variety of local media, such as Q13, King5, Evening, and New Day NW, and frequently interviewed for print magazines and online content as a dog behavior expert.
Cathy is certified through the Certification Council of Professional Dog Trainers, earning both the CPDT-KA and CBCC-KA designations. Cathy is a Family Dog Mediator (FDM), Fear Free Certified Certified Professional (FFCP), a member of the Association of Professional Dog Trainers, the Pet Professional Guild, and Dog Writer's Association of America.