Resource Guarding Foundations Course
Learn how to manage and fix your dog's resource guarding with a personalized training plan and one-on-one support from a certified canine behavior consultant.
If your dog is guarding their food, toys, space, or even you from other people or dogs, there is hope!
Taught by certified canine behavior consultant and specialist in dog aggression, Cathy Madson, get the personalized help you need.
This course will teach you why your dog guards items, set up the environment for safety, and walk you through how to treat your dog's resource guarding using force-free methods.
Two LIVE 60-minute one-on-one virtual coaching sessions (Recorded so you can watch anytime or share with family members)

Professional behavior diagnosis and prognosis

A personalized treatment plan based on what your dog guards

Two months of ongoing email and text support

Unlimited access to self-paced curriculum

Instructions for how to manage and fix resource guarding
View full details
Resource Guarding Foundations Course
What Students Have to Say...
"I like the ability to have someone as knowledgable as Cathy at my fingertips even though we live across the country from each other. The resources she provides in the way of reading material and videos to watch are so helpful. Cathy is so responsive to emails and texts (when needed) that I don't have to wait long to get feedback and to tweak my next set of homework. I LOVE that the sessions are recorded so I can review it if I need to or share it with my husband who can't participate."
"It's so accessible and easy. And it's truly like having a dog trainer right in my home. If a friend was having dog troubles, I would say just do it. The support and knowledge will change your dog's life!"
"Cathy is wonderful. She listens, ask questions, and then helps find me and my husband find creative solutions that work for us and our pup. I am so encouraged at the progress we have made in just a few sessions. Learning to be a more mindful human within our dog training & daily habits has significantly helped the relationship between us and our pup. A family member recently commented that our dog seems so much happier since we started training. (That's saying something since she's already a happy Golden Retriever!)"
Meet Certified Dog Trainer and Behavior Consultant Cathy Madson MA, FDM, CBCC-KA, CPDT-KA, FFCP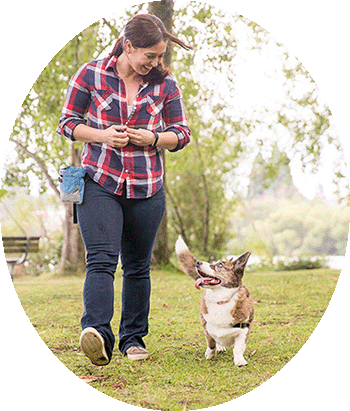 Cathy offers expert guidance for dog owners through virtual courses, one-on-one virtual coaching, and in-person dog training and behavior consultations in the Seattle, Washington area. She teaches group dog training classes at Seattle Humane in Bellevue, Washington.
With over 15 years of experience working with dogs in shelters, dog daycares, grooming salons, group classes, and private dog training, she has had the opportunity to work with hundreds of dogs and on a wide variety of behavioral challenges. She believes that preventive and proactive training is key to helping dogs live a happy, well-adjusted life with their family.
She has appeared on a variety of local media, such as Q13, King5, Evening, and New Day NW, and frequently interviewed for print magazines and online content as a dog behavior expert.
Cathy is certified through the Certification Council of Professional Dog Trainers, earning both the CPDT-KA and CBCC-KA designations. Cathy is a Family Dog Mediator (FDM), Fear Free Certified Certified Professional (FFCP), a member of the Association of Professional Dog Trainers, the Pet Professional Guild, and Dog Writer's Association of America.